Meet
Ajay Joshi,
a successful driver of business tranformations.
Meet Ajay Joshi, a successful driver of business tranformations.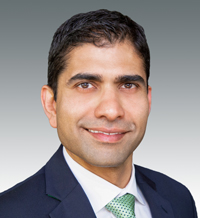 Looking to rebuild your business and thrive?
Ajay Joshi helps organizations revitalize and reconfigure business processes in today's uncertain environment using a "systems" approach to both drive decision making and build resilience.
The catalyst for Ajay's approach is the realization that there is often an important missing piece when it comes to companies facing urgent challenges in turbulent times.
The realization? Organizations tend to reactively operate in "silos" that divide functional areas. These silos stifle the needed interaction, cross-communication and planning, ultimately hindering the ability of leaders to address the situation effectively.
Think about it: Sales teams focus on re-building their pipelines. The marketers stay locked in their own world of communications to soften the external impact. Operations strives to get delayed orders out at all costs, and supply chain professionals do whatever needed to source necessary raw materials.
But this lack of collaboration and coordination doesn't drive optimal business results.
Ajay's philosophy is that these silos are often the reason why seemingly sound business solutions don't work for complex problems in uncertain environments.
Missing is the connective tissue that pulls together the right people, processes and tools. Unprecedented times require a call to action to stabilize a business and then integrate functions with urgency.
Ajay started Connect4 Growth Solutions to partner with businesses and address this very issue. For more than two decades, Ajay has used this approach to revitalize struggling businesses at both Fortune 100 giants and smaller startup companies.
Ajay comes from a Fortune 50 and FTSE 100 background; he worked in a variety of operations, sales, marketing, and technology senior leadership roles during his corporate career at Honeywell and Johnson Matthey.
He holds advanced degrees in engineering and management from the University of Texas at Austin and the University of Pennsylvania (School of Engineering and Applied Sciences and Wharton School of Business).
"Ajay has strong attention to detail coupled with strategic thinking and problem-solving skills in abundance. His positive demeanor allows seamless work across functions."
Industries include:
AUTOMOTIVE
AEROSPACE
ENERGY & POWER
INDUSTRIAL
MANUFACTURING
MEDICAL